Your Mac crashed or you accidently delete your important document, you must regret that why not make a backup of your Mac first. It's really annoying to do all the work again. So always backing up your Mac's data is critical. And here is a list of the 5 backup software for Mac. They are free and safe. Bookmark this page, I'm sure you will need it in future.
If you didn't have any backup and want to recover your deleted files, this Data Recovery for Mac will help you.
Time Machine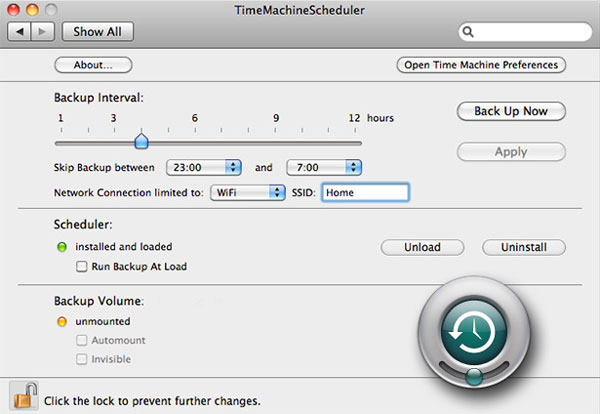 Time Machine is the built-in backup feature of OS X that works with your Mac and an external drive (sold separately) or AirPort Time Capsule. Connect the drive, tell Time Machine to use it, and relax. Time Machine automatically backs up your entire Mac, including system files, applications, accounts, preferences, email messages, music, photos, movies, and documents. But what makes Time Machine different from other backup applications is that it not only keeps a spare copy of every file, it remembers how your system looked on any given day—so you can revisit your Mac as it appeared in the past. Time Machine keeps hourly backups for the past 24 hours, daily backups for the past month, and weekly backups until your backup drive is full.

Download Free Backup Software for Mac - Time Machine
iBackup
iBackup is a simple to use backup/restore utility.
it backups and restores user data and system and applications settings, e.g. System Preferences, Mail, iPhoto, iTunes, but also 3rd party applications settings, more than 250 plugins for backup application settings are available, which allow you to restore the settings and data of one application or to restore an earlier point in time.
iBackup allows to create profiles, each of it provides:
- to select the items to be backed up
- to specify scheduler information
- to manage backup folder settings
- to define connection settings
- to manage log file settings
- to manage UNIX copy commands settings

Download Free Backup Software for Mac - iBackup
Get Backup
Get Backup for Mac's well-designed menu and useful features make it a good tool for system and file backups. With more and more information stored on your computer, the need for utilities for backing up important information stored on systems has increased, and this app has some nice options. Despite the fact that the program is freeware, additional functions are available if the user chooses to purchase a special license. Get Backup for Mac opened quickly after being dragged into the Applications folder. The program's main menu was appropriately designed with clear graphics indicating the main buttons. Technical support was also available via a Help drop-down menu and a link to the developer's Web site. The application allows users to create backups of file folders and even includes buttons for common ones, such as photos, music, and documents. For more traditional backups, there is also a menu selection to clone drives, which properly lists the available hard disks and allows a choice of destinations. A drag-and-drop, third menu also allows for different folders to be synched to each other. The program's performance on all of these options during testing was smooth and as fast as expected.

Download Free Backup Software for Mac - Get Backup
SilverKeeper
SilverKeeper eliminates the time-consuming task of manually backing up your important files, offering you an easy-to-use backup solution. You can quickly schedule unattended backups on specific days and times, or at system shutdown. SilverKeeper can also compare folders, or synchronize folders, so they contain the same files, allowing you to backup your documents, video, photos, music and graphic files. For use with any storage device that mounts on a Mac desktop, LaCie SilverKeeper allows you to easily and reliably backup your important information. Whether you want to backup to a hard drive, a CD-R/RW*, DVD-R/RW/RAM*, or other removable storage device with a FireWire, USB, IDE, ATA or SCSI interface, SilverKeeper gives you the protection you need. *Note: CD-R/RW and DVD-R/RW requires Apple Disc Burning compatible drives.

Download Free Backup Software for Mac - SilverKeeper
CrashPlan
CrashPlan is primarily an off-site backup application that uses the cloud for storage, however, there's a free version of CrashPlan that lets you create your own local cloud, so to speak. You can designate any Mac, Windows, or Linux computer on your network as the destination. CrashPlan will use this computer as the backup device for all of your other computers. You can even back up to remote computers that aren't your local network, say the computer of a good friend who lives next door. In this way, you can easily create off-site backups without trusting your data to the cloud. The free version of CrashPlan supports full and incremental backups, file encryption (a good idea if you're backing up to a computer that you don't control), running automatic backups on a daily schedule, and the ability to back up any external drives attached to your Mac.

Download Free Backup Software for Mac - CrashPlan