Apple released the new OS X Lion a few days ago. It cost only $30 for more cool features, I will be upgrading without hesitation. If you have several Mac computers, according to Mac APP Store Policy, you just need purchase only one single copy to install on all your Mac computers. And this step by step guide will show you how to burn a bootable installation DVD on Mac. It's easy to understand, I'm sure you can handle it even you are new to Mac.
Part1. How to burn a bootable installation DVD
Download Mac OS X Lion from the Mac App Store as usual:
Go to the Mac OS X Finder, locate the Mac OS X Installation file that was downloaded, right-click, and "Show Package Contents"
Find and open the "SharedSupport" folder and locate a disc image file called "InstallESD.dmg"
Copy "InstallESD.dmg" to your Mac OS X Desktop, this is the Lion disk image and what you're going to create the bootable DVD from.
Now input a blank DVD disk into your Mac drive, launch Disk Utility (/Applications/Utilities/), select the "InstallESD.DMG" file, and click on "Burn", that's all. It couldn't be easier to burn a bootable DVD on Mac.
Part2. How to burn ISO to DVD
This part is optional; it's for the new Mac user who wants to burn ISO image file to DVD, ISO is popular used in DVD image file, Game image file, etc.
Open Disk Utility, it's located in /Applications/Utilities
Pull down the File menu and select 'Open Disk Image'
Navigate to the ISO image file that you want burned and click "OK"
Insert a Blank Disk (CD or DVD, depending on ISO file size) and Click 'Burn', the burning process should start automatically.
Part3. How to burn video to DVD to play on DVD player
The tool you need is DVD Creator for Mac. It's the best Video to DVD Burner for Mac I have ever used.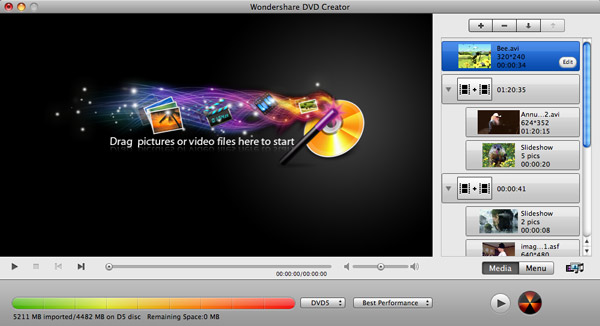 Download and install DVD Creator for Mac. And then lunch it.
Click the Add button to import your video files into the program. You can also drag and drop your video into it directly This DVD Creator for Mac can help you edit video such as trim, crop, cut, make DVD menu, etc. If you need details, you can follow this tutorial.
After finishing all the editing, you can click the Preview button on the main interface to preview your DVD project.
After you finish all necessary settings, click the Start button to start creating your DVD. Now, you can just wait until the program finishes converting or burning your DVD.